2019 Hangtown Days Celebrating the 70th Annual Hwy 50 Wagon Train!
---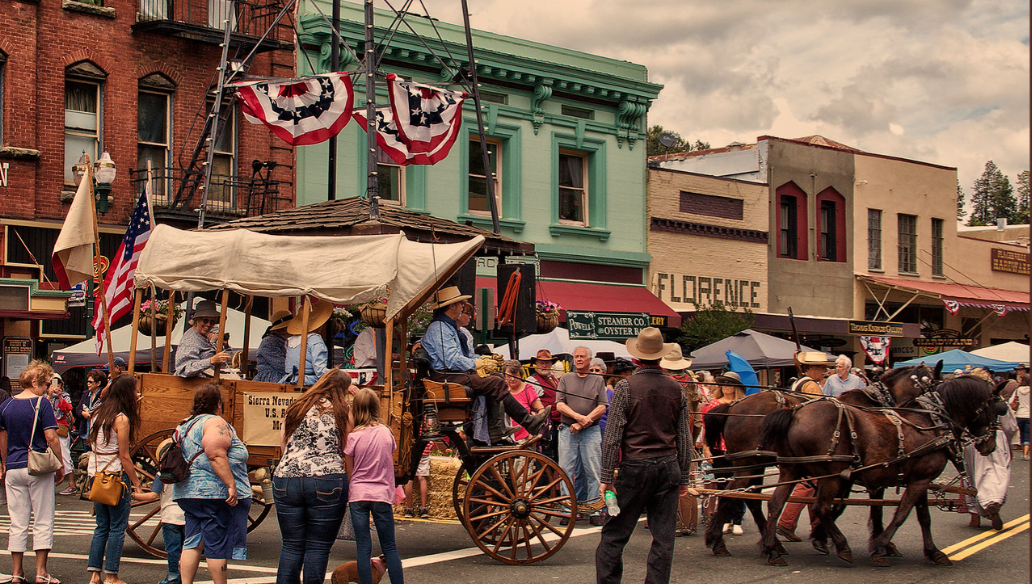 Hangtown Days is welcoming the Hwy 50 Wagon Train coming to Downtown Placerville - are you excited???
Last years' event was such a successful event and we are very much looking forward to the 2nd Annual Hangtown Days that is happening on June 8th!
In anticipation of this years' Hangtown Days, we caught up with the event's co-chair, Jeff Meader, to find out a little more about the event's history and find out more about what we can expect this year.

What is Hangtown Days?
It's a celebration of the Hwy 50 Wagon Train with an actual train of wagons that starts in Nevada and travels down Hwy 50 and ends in Placerville. It's a celebration that PDA puts on to celebrate the Wagon Train's history as they come into town.
We have lots of demonstrations of historical things that were happening in those days, lots of historical wagons that we bring in, and we have a walking parade that we encourage everyone to participate in and dress up in pioneer costumes, pull wagons, and such.
The Wagon Train itself is celebrating the crossing over of the pioneering settlers from the east coast to the west coast during the Gold Rush.
The walking parade is an extension of that and then the Wagon Train comes in and stops in town. A lot of people haven't seen these set ups and it's really impressive as they are rather large - a combination of wooden machine, man, and beast.
How many years has this been going on?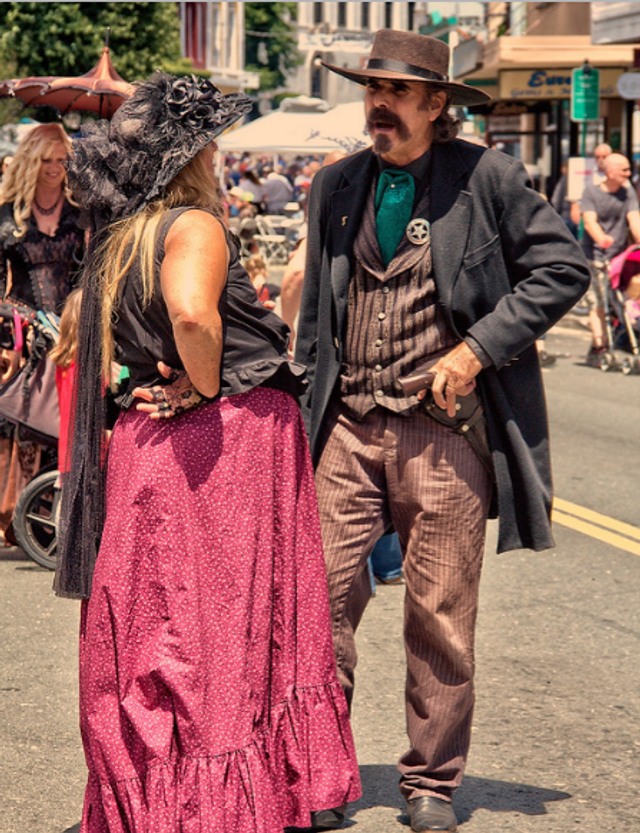 This is the 70th year of the running of the Wagon Train.

As far as participation in Hangtown and Downtown, that's varied over the years...
Back in the beginning (in the 50's, 60's, and 70's) they used to do over-the-top huge parades and parties, midnight dances; it was a BIG deal.
It's waxed and waned over the years, and unfortunately, two years ago, we did absolutely nothing. The Wagon Train just kind of blasted through. There were still people that came into town to see it, but it just came through and nothing happened.
Sue Taylor (co-chair of the event committee) and I decided that we couldn't tolerate that. 
So last year, we reinvented the event and we had a huge, huge turnout! Everybody was so excited about it and it was really great. We hope it's even bigger this year.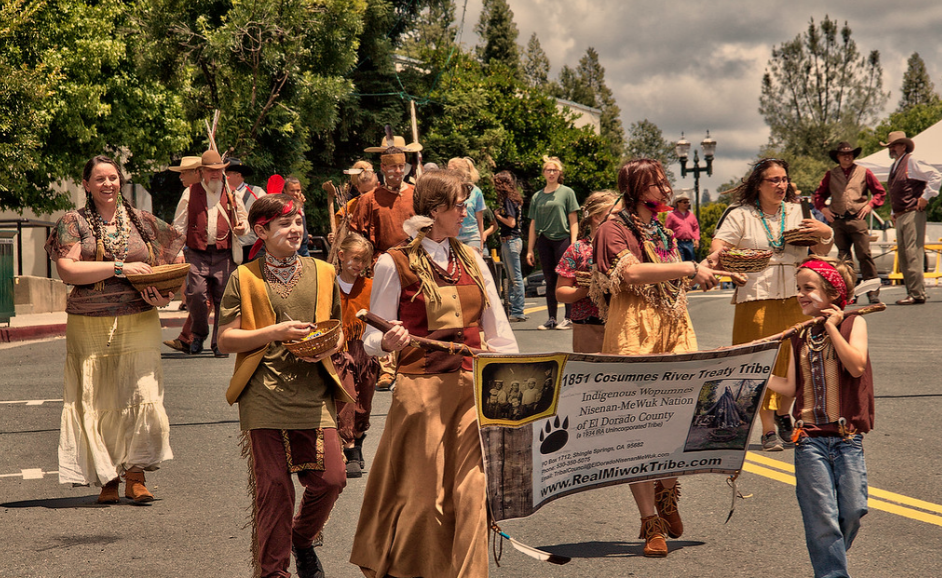 For you personally, what is your favorite part of the event?
Well, I grew up in Placerville and I watched the Wagon Train come through my entire life, so it broke my heart when nothing was done to celebrate it two years ago.
Just to see the level of participation that we've been able to get and the people that have just been so excited to be involved, that's really been the biggest thing to me - to see this amazing historical event brought back to life.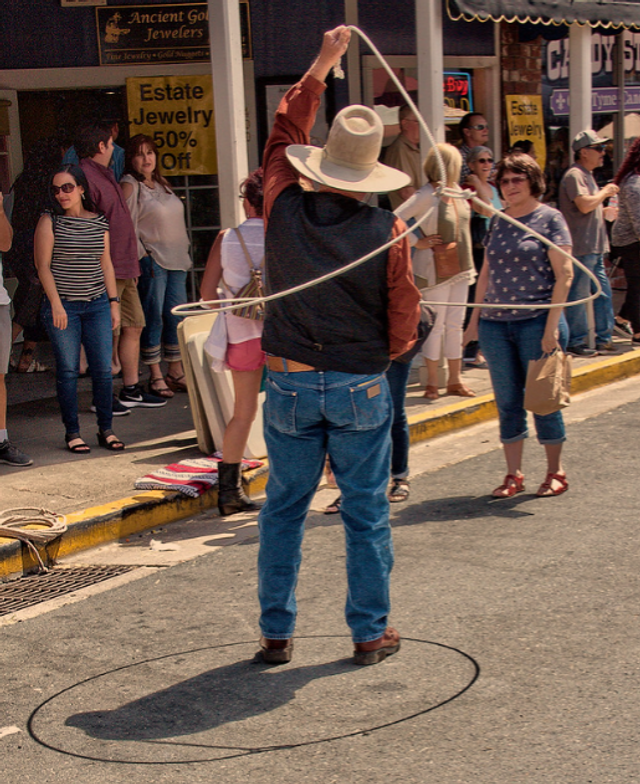 How many do you estimate were in attendance last year?
Several thousand, easily.
Do you have any tips or notes for attendees?
I would say to get the full event, you'd want to try to dress up in historical costumes and spend all day downtown.
Anything else you'd like to add?
This is our 2nd year so we're really encouraging more people to come out and we would really like to see more people to join in the walking parade. I think that (the walking parade) is going to continue to be a neat part of the event in the future.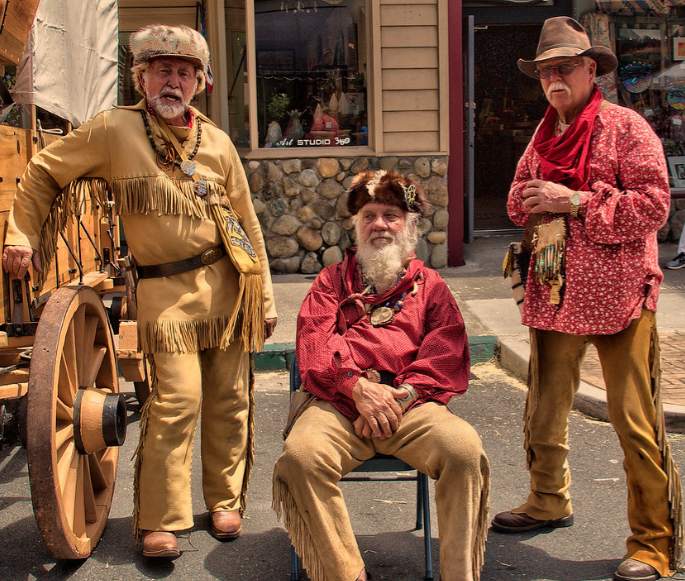 Schedule For The Day
The street will be closed from Bedford to Sacramento Street from 11 a.m. to 9 p.m. and t
he event goes from 1 p.m. to 7 p.m.
1:00 p.m. Hangtown Marshals shoot out at the Cary House Hotel
1:00 p.m. Gold Rush Singers at the Bell Tower
1:30 p.m. Foot Parade from the Courthouse to Center Street prior to the Wagon Train
2:15 p.m. Hangtown Marshals shoot out at the Bell Tower
3:00 p.m. Wagon Train comes through and will be stopping for 15 to 20 minutes
3:30 p.m. Hangtown Marshals shoot out at the Cary House
4:00 p.m. Stick Horse Race by the kids meet at T.W. Bonkers
4:00 - 7:00 p.m. We have 3 Bands playing for street dancing: Random Strangers (at Bell Tower), The Sky Kings (at the Herrick Building), and Hickory Wind (in front of Arian's)
Re-enactments, Activities, and More!
On the street there will be re-enactments by the Hangtown Marshals and Georgetown Divide Regulators. The Regulators will be bringing a saloon and will be teaching old time card games.

Gold panning, prospecting information, and metal detecting will be at Placerville Hardware with help from Uncle Fuzzy and the Gold County Treasure Seekers, as well as Gold panning by the Kennedy Gold Mine.
Other Activities
Old time photos inside Panic & Swoon
Pony rides in the Courthouse parking lot
Bowtie Barbershop will be cutting hair out on the street
A scavenger hunt for the kids
We will have displays and demonstrations by:
The Kit Carson Mountain Men
The Fire Brigade
Back Country Horsemen
The Mormon Battalion
The Indigenous El Dorado County Wopumnes Nisenan-Mewuk
Spinning Wheels by Hangtown Guild
There will be food on the street to buy provided by the Food Merchants on Main Street.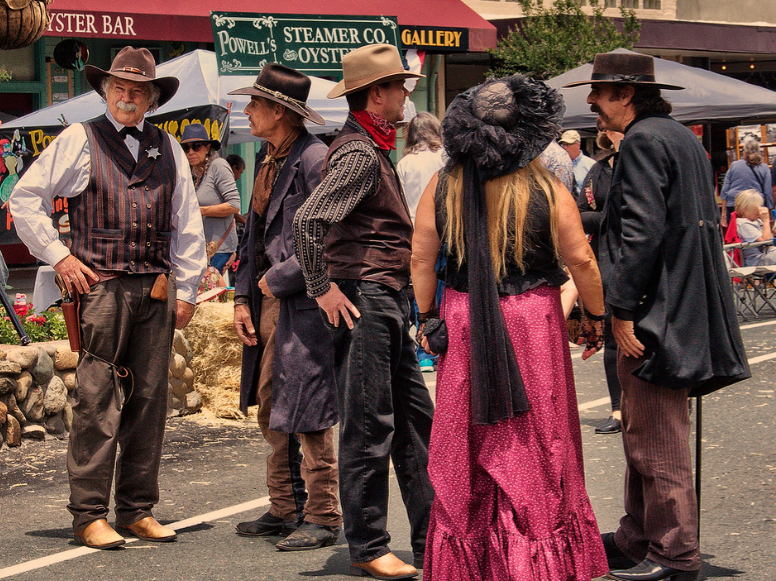 Thank you to Bill Robinson for all of the beautiful photos from last years' event!
We here at the Placerville Downtown Association are proud to be sponsoring the event and hope to see many of you there! 
---
---